---
Blade, the daywalking vampire, can now be taken intravineously at twice the usual dosage with the release of Blade II out on video. This second helping of Blad finds him teaming up with his sworned enemy, the vampires, to fight an even greater threat to the both of them.
Great scenery coupled with great action make this a keeper for your burgeoning comic book video collection. There is talks of a Blade III in the works which one can only imagine what they would have in store to shock the audience. Perhaps they will make it a musical with our tragic hero bellowing his heart out to "Fangs for the Memory" I'll be praying for this. [snicker]
---
Picture Above: Wesley Snipes dishes out sword wielding justice in Blade II. Also rent Blade I to see the start of it all.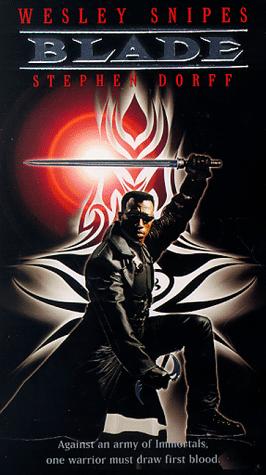 Associated Press
Those eager vampire seekers looking for more information on Blade I or Blade II the movie can find it easily at the Internet Movie Database. This reporter always recommends this definitive source for everything that is related to film. Click on the picture to the left or on the title above to get the information you area looking for. Happy Hunting!